Written by Jacks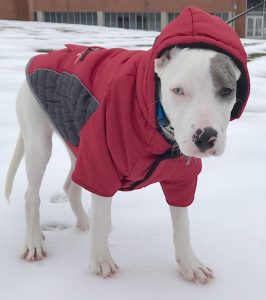 on,
A Catahoula Leopard Dog
When I'm not sniffing butts or eating my own vomit, I'm paying attention to pet trends. For over 35 dog years, I've been digging up information on what appeals to us pets and our humans. Let's dive in nose first and take a look at the top trends.
1. Healthy Food
While I'd rather lick the grease out of the tin can I knocked off of the counter, my owners insist I eat more healthy, natural ingredients. Humans are looking for clean labels on pet food—easily understandable labels with real food they can pronounce. But I'm looking for basically anything that isn't carrots or olives.
2. Technology
When I'm home alone, I get a little separation anxiety. I feel comforted when I can hear my owner's voice or see their tiny head in a monitor. So on my way to the electric water feeder and wifi-enabled snack dispenser, I interact on the two-way pet monitor. It's only a matter of time until I can work the Amazon Fire Stick.
3. Rubs
Belly rubs are at an all-time high. This is totally the top trend of the year and should definitely continue. Just trust me on this one. Nothing more to say here.
4. Luxury
Us pets want to live in the "lap of luxury," but not just in laps. There's nothing wrong with flexin' what we have…
Ice cream shaped dog bones
Pups in a jacket
Bling on my collar and bowls of ceramic
Matching green sweaters and toys hanging by strings
These are a few of my favorite things.
5. More Snacks
If your humans are like mine, they love their snacks. While my humans eat their cauliflower hummus jerky or grass-fed turkey roll-ups, they toss me a couple peanut butter flavored morsels they keep on hand. Pet snacking and human snacking are both a growing market. If I'm lucky, the man-human lets me lick his cheesy fingers after he's done snacking.
6. CBD Oil
This non-THC part of the cannabis plant is a huge part of the pet industry. From pain reliever to calming support, CBD oil is being used by pets and humans alike. While the humans drink brewskies and play cornhole on Friday nights, I prefer listening to Pink Floyd on vinyl with a CBD oil infused chewy. Sometimes we all need to relax after a long week of barking at cars.
If you treat us like you treat your own offspring, we'll be happier, healthier, and more medicated. Just don't forget the belly rubs.