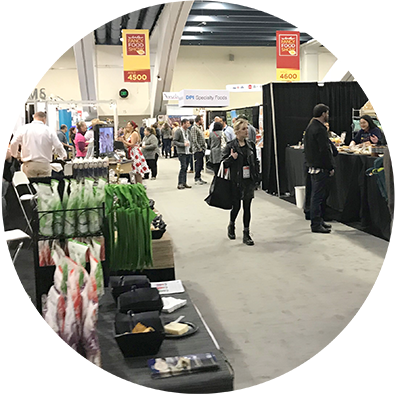 When I joined the Ignite2X team, I learned that my job would include traveling to the Winter Fancy Food Show in San Francisco, California. Three days at the Winter Fancy Food Show tasting cheeses, cured meats, candy and sweets? Yes, please!
Talk about excitement overload. I was overwhelmed by the sheer volume of the show. There were three different 'halls' with rows and rows and rows of companies showcasing their foods. In my opinion, the only thing better than seeing amazing, exotic, fancy food is enjoying free samples of amazing, exotic, fancy food. More please!
It's now my job to work with my director to build a marketing relationship with cheese brands and then sample the products they are most passionate about making? I know, a dream come true. The hardest part of each day was walking from appointment to appointment while avoiding free samples of other interesting foods. Avoiding my natural tendency to explore was hard, but my education in artisan cheese was a worthy focus. They make it. We help them sell it. I'll sample it.
After we completed our scheduled appointments, I was free to wander. Andy Morfopoulos, professional show wanderer and the agency's CEO, warned me, "Even you can't eat your way through every booth. It's ok really to just say no." While it took me the first 100 of 6000 booths to actually take his advice, I did eventually get selective, proving not all who wander are lost!
At first, I was a 'kid in a candy store,' able to explore and sample without consequence. I stopped at every single one. To say that I was happier than a seagull with a French fry is putting it mildly. There were so many things I had never tried, companies that I never heard of, and products I had never seen before. I indulged, not just in every booth that caught my fancy, but every product they had. All but skipping down the aisle, I tried all nine flavors of marshmallow that SmashMallow had to offer, at least three out of six barbecue sauces from Rufus Teague, three caviars from Sasanian Caviar, four flavors of gelato from two different companies, and so much more…but who's counting.
Andy, who has probably been to thirty of these shows over the years, coached me. If the first row took thirty minutes to walk down and we had easily thirty more rows, we needed to up the pace or commit fifteen hours per section, which we did not have. I slowly learned the power of the words, "no thank you". Wanting more is good. Eating more and more with twenty-nine more rows to go is not good.
Once again, Andy attempted to steer me towards sticking to one category at a time: dessert foods. I quickly learned that if there was something I really wanted to try it didn't matter what I previously ate. Sure, there are food pairings that go well together, but have you ever had gelato and then black garlic follow by a mushroom chip and then an ice cream sandwich? Yeah, I didn't think so. While it was not the best decision ever, I'm glad I tried those foods, even if it was not paired expertly.
"Do you want to try a 'drinking vinegar'?" My answer was yes. "Which one?" Why not all of them. Andy found my antics hilarious, and maybe he was a little impressed that I could sustain this for over three hours. He even joined me most of the time, as we left no baked good untried or cured meat untasted.

I'm proud of my "Energizer bunny" mentality, and my enthusiasm may have rubbed off a bit on my two seasoned and more show-savvy bosses. Purple ice cream. Six samples of Caviar washed down by Bruce Cost's Ginger Ale. The joy of sharing the excitement for what these food companies do every day. Mascots that are as fancy and fun as the show itself. Foodie Paradise found!
I'm already planning for the Summer Fancy Food Show in NY. But first I think I need to sample some natural foods, build new and lasting relationships and take it all in at Expo West in Anaheim. It's a job, but I'm up for the challenge. Did someone say Kale snacks? Beyond Meat? Protein shakes? Bring it on.