They say that 51% of Super Bowl viewers care more about the ads than the game itself, and maybe that's because animals rule the commercials.
In January, TiVo released the results of research, incorporating insights from the Research & Consulting division of Vision Critical, ranking the 10 most popular ads over the past 50 years of Super Bowl broadcasts. Fully half of them featured animals.
And this year was no different. Spots included bears, dogs, horses, a marmot and Mountain Dew's bizarre puppymonkeybaby.
The "Aww" Factor
Of course, animals also rule the internet and shared content, too. There are currently about two million cat videos posted that have been viewed more than 24 billion times. That's billion with a "b." Dogs are huge, too. Is there anyone who hasn't seen the hugging Border Collies at this point?
But it seems that all animals have the potential to activate the "Aww" factor, or at least make us smile.
The most shared branded video in the world in 2015 was Android's "Friends Furever," sixty seconds of unlikely animal friendships, with the tagline "Be together. Not the same." As of this writing, it's been viewed over 22 million times on YouTube and shared 6.5 million times on social media.
One explanation for the proliferation of critter characters in advertising is that they can be used to transfer desirable cultural meanings to products with which they are associated. Everyone knows that an ant is industrious, that a lion is majestic, and that panda is playful.
Leveraging those associations can be very efficient and effective – basically shorthand for conveying your brand image. Instilling a character animal with distinct attributes can also help a boring, commoditized brand be more memorable and approachable.
Geico, anyone? And animals transcend language barriers, so they speak to people all over the world.
We at Ignite2x have made very effective use of animals for two of our clients, yet they employed distinctly different strategies.
Making a Statement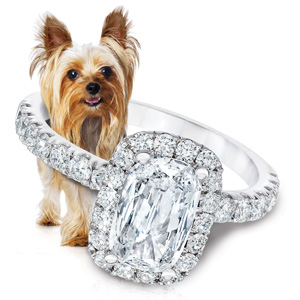 While trying to come up with an image that would resonate with ASPIRI, by Maiden Lane's customers, women shopping for bold, fashion-forward engagement rings and diamond jewelry, we chose a "purse dog," actually a pint-sized Yorkshire terrier, as the hero image. It captures the zeitgeist of today's celebrity-obsessed era, and reinforces the brand's position as the ultimate, look-at-me accessory. Plus, the dog is adorable.
Mindful Marketing
For another client, Zebra Pens, the choice of animal was a given. The challenge was figuring out how to imbue him with a personality and
character that would appeal to consumers and provide a distinct voice for the brand. So we invented "Zen," with tongue firmly planted in
cheek. He is a chill, wise, and amusing spokes-zebra who comes alive in videos, shares his wisdom and communicates product attributes, all while delighting consumers. He has since become an international icon.
Animals are not the solution for every brand, of course. But this year consumers will log thousands of hours in front of screens and be exposed to countless advertising messages across all media.
What are you going to do to break from the herd?