With pet parents increasingly treating their pets like people, it's not surprising that there's a surge in pet care products and services that put Fido at the forefront of all. Here's a quick list of some hot trends in pet parent products and behavior to keep on your radar!
1. Probiotics for Dogs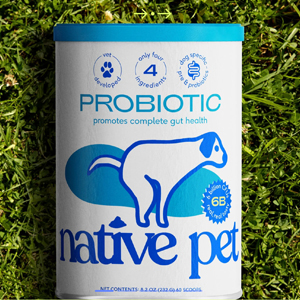 According to Glimpse, dog probiotics rose +31% in popularity this past year. Like humans, some dogs have need for extra help in the gut department to make digestion easier. A probiotic brand that's been garnering good consumer reviews is Native Pet's All-Natural Probiotic Powder, developed by veterinarians. Formulated from a blend of probiotic strains, organic pumpkin seed and artichoke fiber for efficacy, with dehydrated beef bone broth added for great taste, it works to improve canine intestinal wellness.
2. Upscale Doggy Daycare
Working from home is great because you get to hang with your pets all day. However, if you return to in-office work, even for just a few days a week, or take a vacation, your dog will feel it. So, it's no surprise that doggy daycare and chic pet-sitting are increasingly becoming pet solutions for lonely pets post-pandemic. As pet parents, our dogs—and even cats—can get separation anxiety. Since the pet-sitting market is expected to exceed $5 billion by 2030, we recommend that you quickly get in line to secure your reservation for local doggy daycare now, especially since the waiting list is sometimes months long!
3. Smart Collars
Fancy tech isn't just for people. Brands like Halo Collar help you keep tabs on your pup through an app. They allow you to train your dog to follow commands or stay within a designated boundary, all without worrying your pup will run off. Moreover, Smart Collars don't require the typical underground wiring installation associated with invisible fences, making them easier on your dog's body and psyche. You can even use them when you travel because they allow you to set new boundaries depending on any new environment you are in with your pup.
4. Adopt Don't Shop
The Puppy Mill Pipeline Bill was signed into law earlier this year, making it illegal for pet stores in New York to sell dogs, cats or bunnies starting in 2024. The bill will prepare to fight against facilities breeding pets in terrible conditions, which place revenue before animal welfare. Animal lovers and organizations everywhere are delighted and hoping more states will fall in line with similar legislation in 2023. The trend to watch is to see if pet parents will adopt/foster from shelters or choose to work with reputable breeders rather than acquiring pets through these stores.
5. Pet Care is Going High Tech
Technology has changed the way we live, and now it's starting to do the same for our pets. Our ceaseless devotion to the digital world, whether it's through gadgets and gizmos or internet-based applications, has seen a recent emergence in digital pet products. These include things such as activity trackers and walk-arranging apps, to toys and feeders that can be operated remotely from a mobile device, allowing busy pet parents to entertain and care for their pets even when they're not at home. Not just for four-legged family, we have seen the rise of tech for aquariums for years that helped to rebuild the hobby. From lighting to water conditioners and water controllers, aquarists have been able to enjoy the tech aspects of aquarium maintenance all through an app. As these technologies become cheaper and more widely available, their usage is sure to soar.
Looking to engage more pet parents and drive more sales for your brand? Our team of marketing experts is ready to place all paws on deck!
We have the experience, insight and scalable solutions to ensure your brand is getting the attention it deserves with consumers and the trade. So whether you're seeking strategic branding support, need to add some zest into your online channel or are looking to place more spark into your promotional programs. We invite you to learn more about how we think, who we are and what we do as a full-service agency. Let's connect and explore what's possible for your brand!