While the pandemic continues to test our infrastructure and patience, shoppers continue to show a willingness to evolve. Think online grocery is for the younger set? Think again. According to Mercatus, after setting 37% and 24% increases in grocery sales in April and May, the 9% increase in online grocery sales is being driven by consumers over 60 years of age. It may be a forced evolution, but all consumers are embracing it and learning new habits that will have implications long past this moment in time.
It is clear that consumer sentiment and behaviors have clearly shifted. This once-in-a-generation "forced faster evolution" of consumers compels us to ask, what short- and long-term opportunities will come from this forced evolution? How can we help brands be nimble to maximize their opportunity? What strategic, digital and/or shopper solutions are more essential than before? How can we learn more?
In June, 44% of all households reported high levels of concern about someone in their household contracting COVID-19; up 2% from the previous month. With most consumers reluctantly approving social distancing and baseline protection such as masks, and the reality that COVID-19 is everywhere, consumers have been forced to rethink their approach to grocery shopping. They are planning more and changing habits to meet the needs of their household.
Brands who are willing to evolve to meet demand, strive to understand the consumer mindset, take steps to engage with shoppers, and invest in and articulate their purpose, will find success sooner than others. It is the job of marketing to surface and understand consumer insights that will enable brands to implement change.
While e-commerce is a relatively small portion of grocery sales (5% according to One Poll), it is hard to differentiate between e-commerce, online grocery delivery, store pick up, and the online tools consumers use today along the path to purchase. Here are a few compelling observations: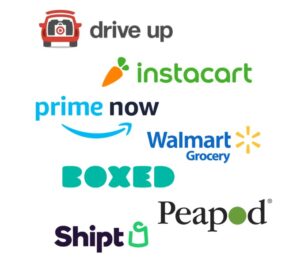 In April, 62% of U.S. digital buyers said they purchased food or beverage products from Amazon in the past month
But the pandemic has given Amazon's competitors an opportunity to play catch-up as the marketplace struggles with increased demand. There has been exponential growth in grocery delivery business in March of 2020 ($900 MM) compared to the prior year.

— Walmart has leveraged its brick-and-mortar footprint to drive online shopping via click-and-collect options
— Walmart's Online Grocery business doubled in revenue year-over-year
— Target's Q1 online revenue grew 141%
— Target's same-day services—pick up, drive up and Shipt—grew 278% in Q1
How is the shift online going to affect smaller and niche brands? How will it affect new brands? Research indicates that online consumers are less likely to engage with brands not currently on their shopping list. According to Global Data, offline consumers are more willing to seek new brands vs. when they shop online:
54% more likely to look at new brands
2x more likely to be influenced by packaging design or POS materials
Over 2X as likely to consider a brand not usually purchased
Retailers are making it easy for consumers to buy what they always buy, but it is not their job to get consumers to discover new brands or use tools to change the path to purchase. It's ours!
Smaller brands in particular need to be disruptive if they are to get on today's online shopping list. While big brands have big dollars, smaller ones have fresh brands, with experiences to share. Consumers looking to spice up their COVID-19 lives have shown an increased willingness to explore on social media in more ways than before. With a surge in media usage and new channels like TikTok, consumers are looking to be educated, informed, or simply escape the tedium of the day to day. (Anyone who has ever lost themselves in a half hour of TikTok videos will testify that new media is very addicting.)
Media inventory levels are high, and prices are at historic lows—40% under pre-COVID-19 costs. Plus, brands that have not enjoyed the essential status of food and beverages simply are not spending at previous levels.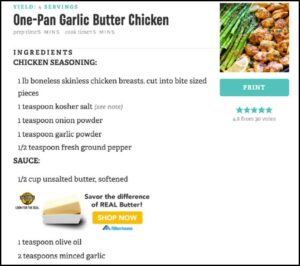 With more media inventory available at lower costs, the ability to deliver an actionable message to consumers has never been better. Innovative new tools are available, including ones that make branded products the recommended ingredient in recipes, an efficient way to reward consumers of key accounts by generating trial, and more. And with more people cooking at home, recipe influence has become extremely relevant.
Consumers have accepted the forced digital evolution of COVID-19 and the opportunity has never been greater to reset and create relevant and differentiated brands and new consumer demand. Brands need to adapt to where consumers are going, and when it comes to e-commerce of all kinds, consumers are going to mainstream channels and retailers.
If smaller brands are going to compete and win in this evolving battle for the hearts, minds (and wallets) of consumers, they need to get on the shopping list. Smaller brands must test and learn with new media to get first mover advantages from early adopters and build a marketing and media strategy based on the new essentials for growth.
When creating a marketing and media strategy based on market opportunity, it is time to leverage content, social, and influencers to expand reach and media awareness.
The opportunity is now for low-cost brand equity building.
Sales continue to climb month by month in e-commerce grocery, with the latest numbers in June amounting to $7.2 billion in U.S. online grocery sales, a 9% bump over May. The results from Brick Meets Click and Mercatus reflect a survey fielded June 24-25, and while the 9% jump isn't as high as May's 24% leap over April or April's 37% jump over March, it still stands as a new record for monthly sales at $7.2 billion, compared with $6.6 billion and $5.3 billion for May and April, respectively.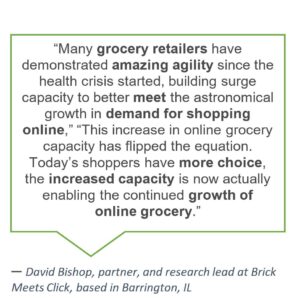 The June survey results also showed that consumers expect to continue to shop online going forward, with 32% of all households (active online grocery shoppers or not) being "extremely or very likely" to use e-commerce grocery within the next 90 days, up 2% from May.
The Coronavirus—and its impact on shopping—is clearly not slowing down e-commerce grocery gains, per the Mercatus study. This is the time for brands to grow with consumers and adapt to the changing landscape or get left behind.
To learn more about shopper marketing essentials, reach out to Andy Morfopoulos, CEO at Ignite2X, at [email protected].