For some of us, we live in the golden age of food. We casually move through each day indulging in what we love – a snack here, a grab-and-go lunch or dinner there, a protein bar to carry us through the afternoon, and so on. Our food choices are largely driven by our desires, functional or otherwise, and we are surrounded by an abundance of choices. Imagine if suddenly that all changed…that our ability to afford and access the foods we love when we want them came to a halt, and that we and our families went to bed hungry at night. For nearly 40 million Americans food insecurity is very much a reality, affecting nearly 1 in 10 nationwide – adults, children and the elderly. Right now 1 in 4 children in Philadelphia are affected by food uncertainty.
MAFTO Care Package Program
That is why our Ignite2X agency family has proudly embraced and supported the MAFTO (Mid-Atlantic Food Trade Organization) Community Care Package program designed to build awareness and raise dollars to help families in the greater Philadelphia area combat hunger. Since 2020, MAFTO has raised over $150k from this program, with donated funds going to food relief charities Philabundance and Small Things, both of which work directly to provide food to pantries on the front line of those in need. These food banks understand the importance of good partnership and make every dollar count – with $.90+ of every dollar received going directly to the purchase and distribution of food and support programs – a sign of good management in the quest for making a difference.
Exercising Good Strategy for Better
I am grateful and humbled to say that I am now in my third term of serving as chairperson of the MAFTO Care Package Committee, and like with each year, the committee strives to identify new approaches and strategies to generate more donations for doing more good.  For example, while MAFTO has historically concentrated its Care Package fundraising and distribution efforts during the holiday season, this year it is seeking donations from companies and individuals all year-round because hunger knows neither time nor holidays.
MAFTO will also be running its 'Thanks a Million' media program again this year in recognition of those companies and individuals donating $10k or more to the cause – making them eligible to receive a share of up to 8 million Philadelphia area billboard impressions gracious provided by OutFront/Catalyst Media, along with MAFTO generated donation special events, social media and Food Trade News trade advertising recognition. These media driven programs are not only a great avenue for acknowledging major donors, but also serve to build awareness for the Care Package program and its food bank partners in hope of generating more donations and volunteers.
Doing Good is Good Business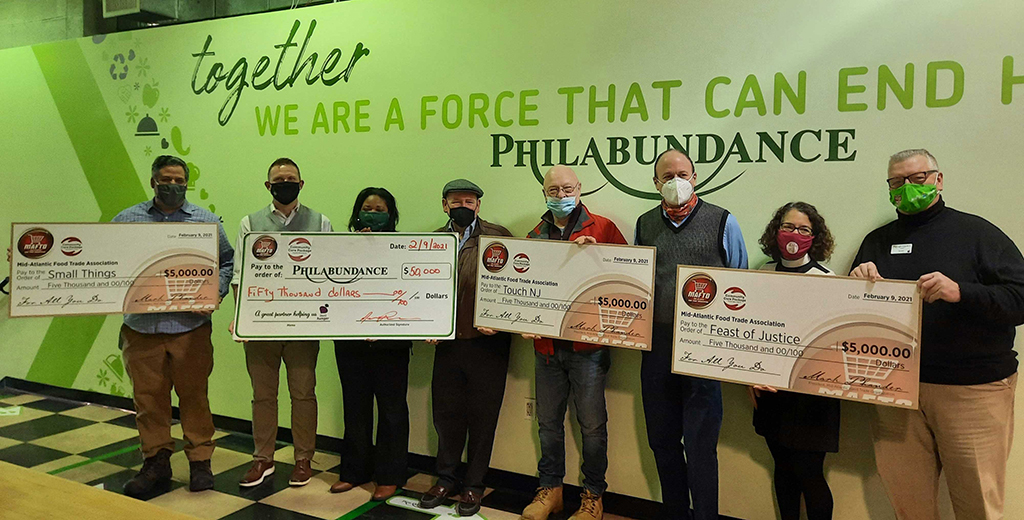 Like other companies that have embraced philanthropy as a core business practice, Ignite2X has experienced rewards that go beyond initial expectations – beginning with making a difference in the lives of others. While MAFTO members and participants represent many different industries, this program has brought out the best of our core competencies as an organization. The program has also reminded us of the importance of building successful marketing partnerships, too! Moreover, through MAFTO, we've formed friendships and relationships with many other likeminded businesses based in the region. With a more broadly defined sense of purpose, we've gained valuable insights into the entire food community.
How You Can Help
Please consider joining us in giving to this most worthy cause. With the cost of a Care Package being just $100, it's a perfect way for you and your company to give back and recognize your employees or celebrate those on the front line of helping others. To make a donation of $100 or more, please visit https://mafto.org/fundraisers. Larger donors receive a bonus of additional Community Care Packages and support from MAFTO. (Contact me at [email protected] for more details.) Let's come together and put more food on the table! Thank you for your consideration!