While influencer marketing in the traditional sense has been around for as long as advertising has existed, the concept has exploded in the last decade alongside social media. With this growth, the market has also drastically changed. Gone are the days of celebrities exclusively being the face of brands and gracing social media feeds.
Micro- and nano-sized social media influencers now fill every conceivable niche and sub-niche interest. Each of these types offer distinct benefits and trade-offs for brands. We'll dive deep into exactly what micro-influencers are and why the latest data shows that this group is getting the best results for brands and could for you, too.
What are micro-influencers?
Put simply, micro-influencers are individuals who have between 1,000 to 10,000 followers on social media. These influencers are typically focused on a specific or niche topic and have a loyal following. Because of this, micro-influencers commonly have higher rates of engagement from their audiences, despite their smaller size.
Benefits of micro-influencer marketing
How can these savvy influencers work for your brand? Keep on reading.
1. Their content (and audience) are niche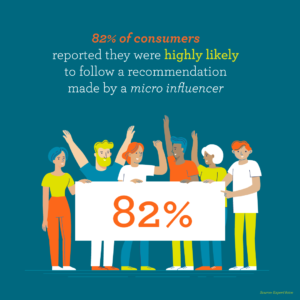 Would you rather take a recommendation on a new kitchen gadget from a friend who you know spends their weekends trying new recipes or from the friend who eats take out 7 days a week? Micro-influencers are the friend who spends the weekend in the kitchen.
Whether it is cooking, fashion, beauty, travel, or another multitude of topics, micro-influencers are experts on their niche topic and offer the potential for highly relevant branded content with the right brand fit. When you consider that 40% of Twitter users have made a purchase as a direct result of a tweet from an influencer, it's easy to see why many brands use influencers to spread their message. Remember, relevancy is key here. Consumers are more likely to take a recommendation for an at-home meal kit from their favorite cooking blogger than the high profile influencer who tried to sell them a beauty product 2 days ago.
2. More cost-effective and affordable than the big players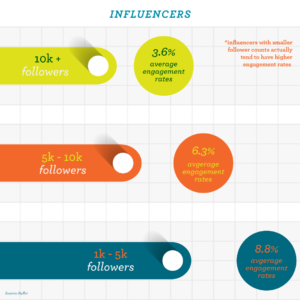 Influencer marketing allows brands to tap directly into an influencer's audience. Therefore, it's often the case that the larger audience an influencer has, the more dollars it costs to work with them. However, larger doesn't always equal more engaged. More often, influencers with smaller follower counts actually tend to have higher engagement rates.
So, while you might not be able to reach hundreds of thousands of people, the followers you are reaching are more likely to engage with your content and become a customer. Micro-influencers typically are more affordable as well, allowing you to truly get more bang for your buck.
3. They produce higher quality content
When partnering with an influencer to create content, you want it to be fun, eye-catching, and engaging. Having a static image of an influencer just holding your product with a generic caption probably isn't exactly what you are going for.
Micro-influencers are highly deliberate with the content they create and are able to provide valuable feedback on what their followers like best. In addition, since they know that their audience relies on their honesty and authenticity, they are more likely to put that time and effort into creating unique and exciting content that has a genuine message about your product.
4. They offer authenticity and are perceived as "people like me"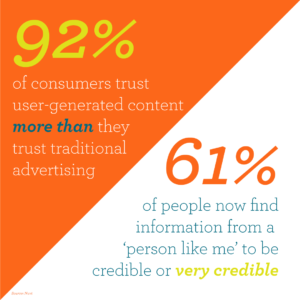 Put simply, micro-influencers are relatable. As a whole, they are often perceived to be more authentic and genuine than larger influencers. This stems from a unprecedented transparency with their content (and personal stories), selectiveness with brand partnerships, and an innate "human quality" that gets lost with big-time celebrities.
The Edelman Trust Barometer Survey recently found that, "61% of people now find information from 'a person like me' to be credible or very credible." Working with a trusted micro-influencer can help humanize your brand and result in more loyal customers who are likely to stick to your brand and recommend it to their circle.
Whether you already have an influencer strategy, or you're looking to add one, including micro-influencers can help build engaging and effective content for your brand.
We can help. Micro-influencers play a crucial part in our content and social media strategy for client, Zebra Pen. Whether it's leverage user-generated content, running a brand ambassador program, or spreading a campaign message through sponsored blog and social posts, micro-influencers are a driving force to creating engaging content.
Connect with us to start the conversation.