What happens when Ignite2X's consumer-driven creative work is reviewed by its peers? Awards!!
We were on fire at the recent international 2023 Muse Creative Awards – bringing home a total of 9 awards – 1 platinum, 3 gold and 5 silver!
The Muse Creative Awards competition, designed to honor, promote and encourage excellence in creativity, draws submission entries from the largest to smallest marketing and advertising agencies from around the globe across a diverse set of advertising and marketing categories. That said, knowing that we competed alongside global peer agencies submitting work for brands such as Apple, Disney, Coach and Hulu makes our winnings even more special!
Not only was our work competing against a field of global brands, but it was evaluated by judges who are experienced, senior-level professionals representing a diverse set of industries, including creative and art directors from international agencies, designers, educators and business owners. Submissions were assessed by the judges using the following criteria:
Creativity / Concept / Idea
Content / Brief / Objective / Planning / Execution
Visual / Design
Innovation / Functionality / Effectiveness
Impact / Memorability
Our award-winning work highlighted capabilities including social videos, augmented reality experiences, marketing and promotion and integrated marketing campaigns, developed for our clients Zebra Pen and California Milk Advisory Board.
We invite you to read on and to click on the images to see the work for which we and our clients were recognized.  We hope you enjoy reviewing it as much as we did creating it!
Zebra Pen Earns its Stripes
Earning Muse Award Platinum status is quite an honor, and we are most proud to announce that our social video entry, Zebra Pen "The Official Zen Office," did just that. Platinum status signifies that our entry received a score of 85-100 points out of a possible 100 during the judging. The campaign consists of a series of vignettes featuring Zebra Pens as the 'star' in an office environment. What makes this campaign unique is that rather than focusing on functional aspects of pens, it dimensionalizes, inserts humorous emotion and connection into the experience of using the brand, as the actors share how they find their Zen with Zebra Pen.
We also took home a Gold Award for Zebra Pen "Meet Zen" (Link for mobile devices) in the Experiential & Immersive category. The goal of this project was to develop a unique user experience with Zebra Pen's spokes animal… Zen. The user experience highlights Ignite2X's innovation work in marketing communications through the use of new technologies. Leveraging augmented reality technology to connect with mobile users, consumers learned, engaged and interacted with a fully immersive brand experience on their phones. A dimensional portal door within the experience allows the user to interact with product brand stations while on a journey to discover their path to self-expression.
Additionally, we scored 3 Silver award recognitions for the Zebra Pen brand in the digital arena:
Zebra Pen "The Path to Self-Expression" – this branded animated video features our spokes-animal Zen, who takes viewers on a guided journey through a whimsical world of Zebra Pen history, innovation, enlightened writing products and creative products to elevate self-expression.
Zebra 40th Anniversary – a 40-day cascade of fun and imaginative events that ranged from influencer media partnerships for creating buzz, to sweepstakes, to QR codes leading consumers to an augmented reality experience worthy of this milestone anniversary, and more!
Zebra Pen/Marshmallow PEEPS® Brand "Add Color to Your Spring" Sweepstakes – resting on the rebirth of Spring, this program brought the colors of Zebra Pen's MILDLINER highlighter products together with the Just Born PEEPS Brand for an online sweepstakes promotional campaign supported by media advertising, email marketing and PR that drove 21,000+ unique entries.
California Milk Advisory Board Makes Good Moo-ves
Ignite2X collaborated with our client, California Milk Advisory Board (CMAB) and Pennsylvania specialty food retailer Di Bruno Brothers, to activate two fully integrated in-store/digital marketing and promotional campaigns. At the retail level, product-centric, call-to-action signage met shoppers at every turn, from entering the store to the point of purchase – all to encourage them to explore and buy specialty cheeses made with Real California Milk. On the digital front, a cascade of social media posts, attracted online shoppers with slide-in digital banners, rebate offers, and a 'California Cheese' shoppable landing page  – all replete with hero creative. To provide shoppers with a personalized California cheese shopping experience, and to drive more sales, Di Bruno Brothers' staff competed for swag and other prizes for an added element of fun.
The first ofthese two campaigns, 'Blaze a Cheese Trail to the Golden State,' leveraged a theme consistent with the positioning and sophistication of Di Bruno Brothers, designed to entice shoppers to enjoy a California cheese experience. Based on the success of this program and recognizing the holiday season as an opportune time for promoting the entertaining value of cheese, Ignite2X developed an additional thematic platform with a seasonal twist. 'Cheeseboards for the Holidays' leveraged both in-store and digital tactics. Collectively, these campaigns elevated sales, deepened retailer relationships, created product plus-outs and new distribution opportunities.
We're proud to say that each of these two efforts received a Gold and Silver Muse award – one for the Marketing and Promotions category and the other for Advertising – Point of Purchase.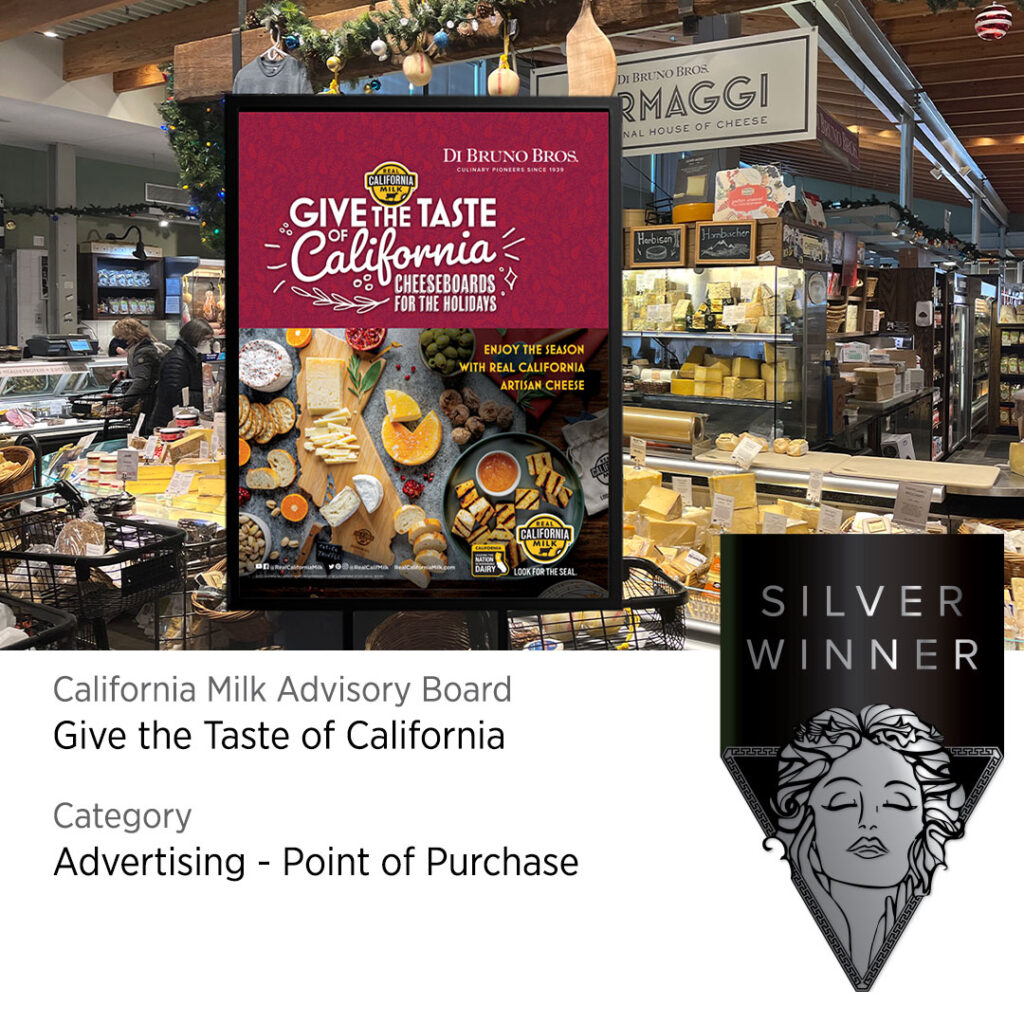 Good Work is Working Good
We're super proud of the award recognition and of our team for the exceptional, strategic work they produce daily to help drive our clients' business and build their brands.
However, in the end winning is all about our clients. We measure it through the long-standing relationships we've forged with clients, by helping them find real-world, insight solutions that drive sales for their brands, by achieving measurable results that are scalable for future brand growth opportunities, just to name a few. Our approach is simple – we believe in partnership, we are laser-focused on our clients, and the consumer is at the center of all we do.
We're Ignite2X…and we're ready to help you and your brand embrace what's possible!